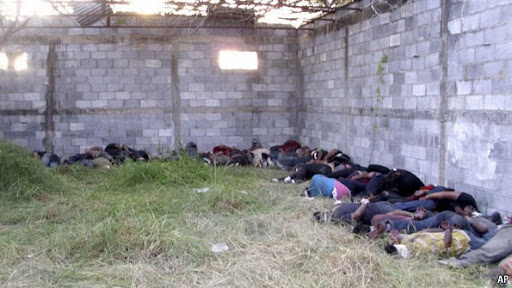 Dude
.
The bodies of the 58 men and 14 women were found above ground in a structure on the ranch, which is about 14 miles (22 kilometers) from the town of San Fernando, near the border with Texas. The Mexican navy, which was called in to investigate the case, said it is one of the largest discoveries of bodies in Mexico's 4-year-old war on organized crime.

Members of the Mexican navy were tipped off to the site after a man with a gunshot wound approached a military roadblock.

The man said he had been injured by a criminal gang, according to a statement released by the navy.

Mexico's attorney general's office identified the man as an Ecuadorean immigrant with a bullet wound to the neck.

"The navy went to the area where the man came from and encountered gunfights. A naval officer was killed and three of the delinquents were killed," said an officer who answered the telephone at the navy's communication department. The officer, who was not authorized to speak on the record, declined to give his name.
I first heard about the increasing violence in Mexico on NPR a couple of weeks ago. But this? This is just insane.
Who kills 72 people in cold blood?
------
Photo: The bodies of 72 men and women that were allegedly killed by the Zetas drug gang are seen inside an abandoned warehouse in the town of San Fernando, just 100 miles from the the Mexican border with the U.S. near the city of Matamoros, Mexico, Wednesday Aug. 25, 2010. (El Universal/AP Photo)