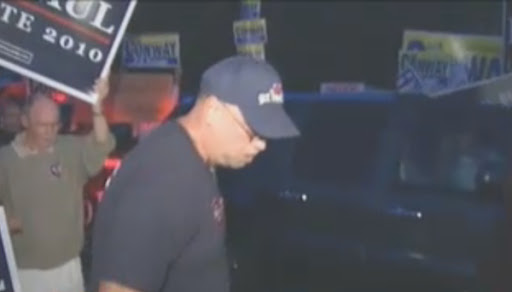 Yeah, Mr. Head Stomper
goes there
:
In the video, it appears to some that 23-year-old Lauren Valle is wrestled down to the ground by Rand Paul Supporters and then stomped on.

But to Tim Profitt, the the situation is much different. He says what the video doesn't show is Valle's aggressive behavior. Profitt says she rushed Paul's car three different times; each time refusing to stop.

He says at the time, he didn't know what she was trying to do.

"We thought she was a danger; we didn't know what she was doing."

Profitt explained that he used his foot to try and keep her down because he can't bend over because of back problems. He also says police were alerted to watch her before Paul arrived because people in the crown [sic] recognized her as someone who may try and pull a stunt.
Okay, so I can
kind of
buy the "we didn't know what she was trying to do" excuse. But, if you are going to attempt to stop someone from "rushing" a candidate's car, you don't need to stomp on their head. You hold them back and wait for the
real
authorities to arrive.
But, that's not what he does. I don't care how you spin it -- he was not simply trying to hold her down -- the dude
stomped on her head
. Multiple times.
Greg Sargent
has the latest news
on this story:
The Lexington Division of Police has identified a suspect in connection to the October 25, 2010 assault of a woman at 600 Cooper Drive.

On the 25th, at approximately 7:00p.m., officers were alerted to an active assault at 600 Cooper Drive (Kentucky Educational Television Studios).

Officers responded to the scene of the assault and made contact with the victim. She identified herself as a member of MoveOn.org and stated she was assaulted while attempting to take a picture with candidate Rand Paul. Division of Police patrol officers took an assault report and forwarded the case to the Division of Police Bureau of Investigation.

Today, October 26, 2010, detectives identified the suspect, involved in the assault, as Tim Profitt. Mr. Profitt is currently being served with a criminal summons ordering him to appear before a Fayette County District Court Judge.
It will be interesting to hear what Mr. Profitt's story is -- aside the from the weak-ass excuse about his back -- as to the events leading up to this incident. No matter what he says about Lauren Valle (the woman that he allegedly assaulted), the videotape is some extremely compelling evidence that definitely does not do Mr. Profitt any favors.
One thing is certain, none of this side-show will have any real effect on the U.S. Senate campaign in Kentucky, as Rand Paul is
poised
to defeat Paul Conway in that contest.