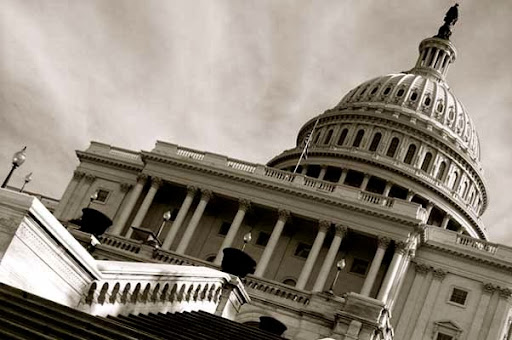 Bring on the
skepticism
!
As Republicans in Washington prepare to share power with Democrats, most Americans remain unconvinced that either party's agenda by itself will solve the nation's most pressing challenges, according to the latest Allstate/National Journal Heartland Monitor poll.

[snip]

[M]ost respondents expressed ambivalence rooted in uncertainty that either party can tame the nation's woes. Twenty-one percent said they were "not convinced that [the] agendas of either party can solve our problems" and are "pessimistic they can work together to find solutions." The largest group, 36 percent, also said they were not convinced that either party's policies could fix the nation's problems, but said they were optimistic that the sides would find a way to cooperate for progress.

Nearly half of Democrats worried most about the GOP's rolling back Obama programs, and exactly half of Republicans said they welcomed the victory as a chance to advance a small-government agenda. But just under half of Republicans, and just over half of Democrats, picked one of the options that expressed doubt that either party's agenda alone could get the job done.

Among independents, that sentiment was endemic. Just 10 percent of independents said they welcomed the GOP victory as an opportunity to roll back government, and only 18 percent said they feared it as a threat to Obama's programs. Fully 70 percent of independents said they believed that neither party's agenda alone could solve the country's problems. That big bloc divided between 39 percent of independents who were optimistic that the two sides might still work together effectively and 31 percent who were doubtful that they will cooperate to get much done. "When the Republicans were in control of Congress before, they didn't get us anywhere," said Valerie Juhasz, a production manager and an independent voter in Sylvania, Ohio, who responded to the poll. "People voted them back in because they weren't happy with the Democratic House, but I don't think we'll get any further with Republicans."
Not really all-that surprising, given the relative successes of either party when holding control of both houses of Congress. Although, I suppose that "success" is a relative term...